No doubt, if you're running an SEO campaign for a SaaS company or startup, you know how important it is. You need the right onsite technical structure, content strategy, and meta-data in place in addition to keywords.
Have you spent enough time building links? A link building strategy (still) remains one of the most important elements of your 'off-page' SEO (i.e. activities you perform away from your site to increase your ranking).
If you haven't already, you should put link building at the center of your SEO marketing strategy.
Link building: what is it?
Link building involves getting links to your site as the name implies. It's more than just posting links pointing back to your domain all over the web. Rankings won't be boosted by this scattergun approach. The key is to balance your strategy and build relationships with other authorities – only placing links when they are valuable and relevant to users.
Benefit From Link building
Backlinks are created when another website links to yours. The reason backlinks are important to search engines is that they indicate the linked site has quality, relevant information. Think of it as a digital vote of confidence. Below are 12 Benefits of backlinks that we describe below.
1. Credibility and authority is built through links
Search engine optimization (SEO) analysis tools like Ahrefs, Semrush, and Moz use domain authority and domain rating as site metrics to measure how trustworthy a domain name is to search engines.
A website's backlink profile, which includes both the quality and amount of links pointing to it, is a key factor in determining domain authority.
A website is regarded as being more authoritative and reliable the more high-quality backlinks it has.
This is demonstrated here:

Source : Loganix
This example is a website with a reasonable backlink profile that was taken from Ahrefs.
This website has 77K backlinks, which have given it a domain rating of 66.
Whenever this website adds new content, a domain rating is sure to catch the eye of search engines.
Links give your website credibility because they serve as outside indicators of the authority of your domain. Google wants to deliver the most pertinent results to users. It takes into account "authority" to achieve this. The bigger the amount of high-quality links pointing at your website, the more credible it is.
Because it will improve their user experience, reputable publishers will connect to your material, according to Google's logic. Five quality connections usually trump fifty unhelpful ones, so try to only build links from reputable websites.
Consider the number of sites you are linking back from as well. It is preferable to receive 10 links from 10 separate authoritative domains as opposed to 10 from a single domain.
2. Google ranks your website using links
Without link development, you are not taking into account more than half of Google's ranking factors. Even if your website has excellent content, Google will not rank it highly if there are no links pointing to it. Links are crucial to Google's algorithm. You need more backlinks than your rivals do in order to rank higher than them.
Participate in activities that Google's algorithms value, such as attempts to establish value and authority. Share your original, distinctive content. Build more reliable, interesting, and relevant links to improve your results.
3. Backlinks will improve your website's traffic
One of the strongest strategies for luring relevant audiences from authoritative websites in the business is link development. You may increase traffic from outside sources and web traffic is a solid sign of the health of your website by focusing on themes and audiences that are important to you.
Search engines understand that your website is an authority on the relevant subject when other websites connect to it. Your website will consequently appear higher in search engine results pages, resulting in an increase in organic visitors.
Additionally, more visitors will be led to your website's web pages the more websites (referred domains) link to your website.
You can see from this data: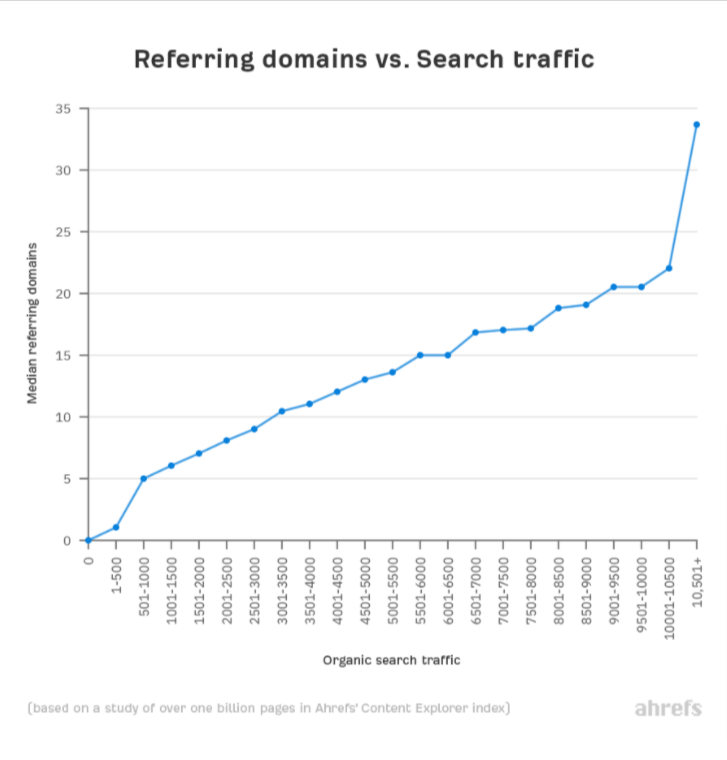 Souce : Ahrefs
The more referring domains that generate inbound links to your website, the more organic traffic you are likely to get from Google search, according to this incredibly helpful graph provided by Ahrefs.
4. Link building raises site metrics and SEO rankings
You will be familiar with words like Domain Authority (DA), Domain Rating (DR), Page Rank (PR), Alexa Rank, and others if you are knowledgeable about SEO. You may improve these indicators and the overall health of your website by constructing backlinks. Additionally, visibility and exposure will benefit.
5. More sales and increased income opportunities
More potential for revenue generating result from increased traffic and better stats. Your website will show up higher in search results, bringing you more prospective clients. This implies that you'll be able to increase the number of goods and services you sell while also opening up new revenue streams.
6. Better connections within your niche
In addition to generating relevant links, following Google's advice and concentrating on link building inside your industry niche will help you create stronger relationships with key people in your field. This might make it possible to work together in new ways.
7. Promote yourself as an authority figure
Naturally, you want your brand to lead your sector, and persistent link-building can assist you in achieving this. You'll see increased sales and revenues as a brand leader since you'll be viewed as a reliable authority. You'll be the organization that controls talks in your industry as an authority voice.
8. A consistent referral traffic source
Once you've established a permanent link on a reputable website, you should continue to see consistent traffic coming from that link. In contrast, typical marketing and advertising approaches don't generate traffic once an advertisement has run its course. Building backlinks of the highest caliber will guarantee that your website receives traffic from outside sources over the long run.
9. Greater exposure and visibility
Link building can help with credible lead generation in addition to improving search rankings. For instance, link building will assist you in reaching out to an audience in a new geographic area by increasing awareness there. This can really benefit your company and help to build your reputation as a reliable brand.
10.  Reduced bounce rates
Bounce rate is described by Google as "The number of single page sessions." In other words, the quantity of site visitors who came to one page before leaving without exploring the remainder of it.

Source : MonsterInsight
Think about internal connections as well as outbound links when creating links because the combination helps your backlinking appear more natural. Internal links facilitate user navigation of your content while also facilitating Google's navigation of your website. You can increase time spent on your website and lower bounce rates by making it simpler for users to find the content they're looking for.
11.Backlinks Produce Additional Backlinks
A system known as a positive feedback loop is one in which the effect of a process is amplified by feeding its output back into its input.
According to link building tactics, the more backlinks your website can get, the more credible it becomes, the higher its SERP rankings and site traffic, and consequently, the more backlinks you are likely to get.
Think about this graph.

Source : Loganix
Here, you can see that the number of referring domains this site started to receive started to significantly increase in January 2021. The acquisition of backlinks was continuous but modest prior to this time. However, as soon as this critical mass was reached, the number of referring sites and subsequent backlinks this site received skyrocketed.
It's also crucial to remember that there are several kinds of backlinks, some of which give your website more authority than others. Before you begin your link-building trip, be sure to comprehend them.
12. Cut Back on Paid Advertising
An ongoing digital marketing technique called SEO aims to make a website or web page more visible in search engine results pages (SERPs). The act of acquiring quality backlinks is one of the fundamental elements of any successful SEO plan, as I'm sure you are aware by this point.
Paid advertisements, on the other hand, are momentary marketing tactics that entail paying to have an advertisement displayed in a social network feed or on a search engine results page. Paid advertising is typically thought to be more expensive than SEO, despite the fact that it is effective.
The expenses of pay-per-click (PPC) and SEO might be difficult to compare due to the numerous factors.
Although Ahrefs utilizes an estimated cost to demonstrate how much it would cost a website owner to drive the same volume of organic traffic to a webpage using paid advertisements.

Source : Loganix
Here is a breakdown of the projected PPC costs for this site's best-performing pages. You'd probably agree that it's quite expensive.
This viewpoint makes it easy to understand how useful a sound link-building approach can actually be.
FAQ Stalinks
What is link building how it is important?
Link building is a technique that involves obtaining hyperlinks from other websites and adding them to your own website in order to encourage web pages to link to one another. It aids users in moving through various Internet pages. Additionally, they facilitate the crawling of your website's pages by search engines.
What is the best link building strategy?
Build internal links
Use images to earn links and mentions
Broken Link Building
Digital PR
Buy Backlinks with Stalinks
You can learn more about link building strategy and find a ways to get backlinks to your sites in this article.
Is link building still effective?
Absolutely. Backlinks are an essential component of any effective, long-term SEO strategy. Google will send more visitors to a page with more high-quality, pertinent backlinks, to learn more about the effective of link building in 2022 you can learn in this article.
My Thoughts  
I hope that this article has inspired you to start or refine your back linking strategy.
Last but not least, refrain from purchasing links if you want to have actual success with link development. The links you purchase may even turn out to be ineffective over time; you won't even know if they will work until after you've paid for them.
If you want buy a backlinks make sure you get it from trusted platform like stalinks, where you can check and see the quality of the websites that you going to get based on Ahref's score the starting price is affordable and you know what you get so you don't have to worry whether you buy the right backlinks or not to learn more about stalinks service for backlinks you can go to here.